We offer grooming of the highest and most professional quality. Our groomer helps our clients thoroughly understand their pet's coat, and any changes which take place in it due to age, size, or season; all of your questions will be answered with accuracy.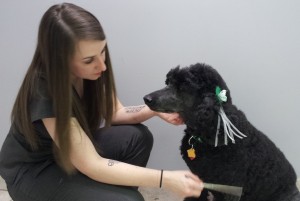 Our groomer's knowledge and hands-on experience provides a great sounding board to discuss all available options to the care and maintenance of your pet's coat. She is available Monday through Friday from 7 am to 4 pm by appointment.
Because we reserve appointment space and time for you, please let us know if you can't keep your grooming appointment, our policy regarding no show's can be found below.