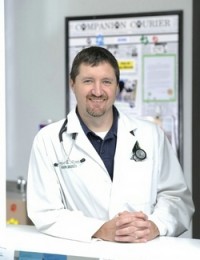 Veterinarian & Practice Owner
Education: Auburn University School of Veterinary Medicine
Pets: 3 Dogs, 3 Cats, a Bearded Dragon, & numerous Tropical Fish
Dr. Alford graduated from Auburn University's College of Veterinary Medicine in 2009.  He also received a B.S. in Zoology from Auburn in 1998 as well as doing extensive Graduate Microbiology Coursework there from 2003 to 2005. He has been working in small animal and emergency practices since 2003.
Dr. Alford is a native of Montgomery, Alabama and moved to Madison in 2009 with his wife, Sherry, and their three children – sons Ethan and Luke, and daughter Anna Kate.
Dr. Alford's love for animals is exhibited in the fact that he and his family have numerous animals at home:  three dogs – a Boxer, Aussie; Chronos, a Siberian Husky; and Winston a long-haired Dachshund; as well as three cats – Sable, Callie, and Oreo; and a bearded dragon, Uncle Si.  He also has a beautiful and well-maintained salt water fish tank with numerous tropical fish.
Dr. Alford enjoys football, especially the Auburn Tigers, outdoor grilling and smoking, and spending time with his family.
His medical specialties include surgery and internal medicine. He also works with a wide-range of exotics (including snakes, turtles, birds and many others) as well as pocket pets (including guinea pigs, gerbils, mice, etc.) He is also the referring vet for the Huntsville and Madison PetCo stores.
Dr. Alford has been the owner of Companion Animal Care since June of 2010.  He says, "I feel blessed to have been given the opportunity to own and operate this clinic!  The Madison/Huntsville community is a wonderful place to live.  And working here with the clients and their animals is one of the greatest joys of my life!  I am looking forward to many years of service in the Madison Area!"