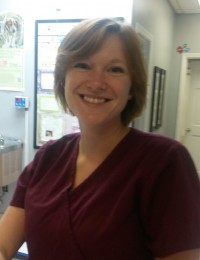 Veterinary Technician
Education: Berry College
Pets: Cats - Ajax, Helios and Theia, and a dog – Kira
Tacy was reared in Maui, Hawaii. She began working at a horse ranch in high school and knew then that her future career would involve animals. To fulfill this dream she attended Berry College in Rome Georgia, graduating with a Bachelor's Degree in Animal Science in 2011. She began her career as a Veterinary Technician in Mobile AL, and after marrying her college sweetheart, moved to Decatur.
Tacy enjoys riding and training horses, hiking and rowing. She is the proud owner of three cats – Ajax, Helios and Theia, and a dog – Kira.
Tacy has a very kind and sweet personality, which is one of her strong suits in dealing with her clients and patients.  You will love Tacy and the way she cares for you and your pet/s.